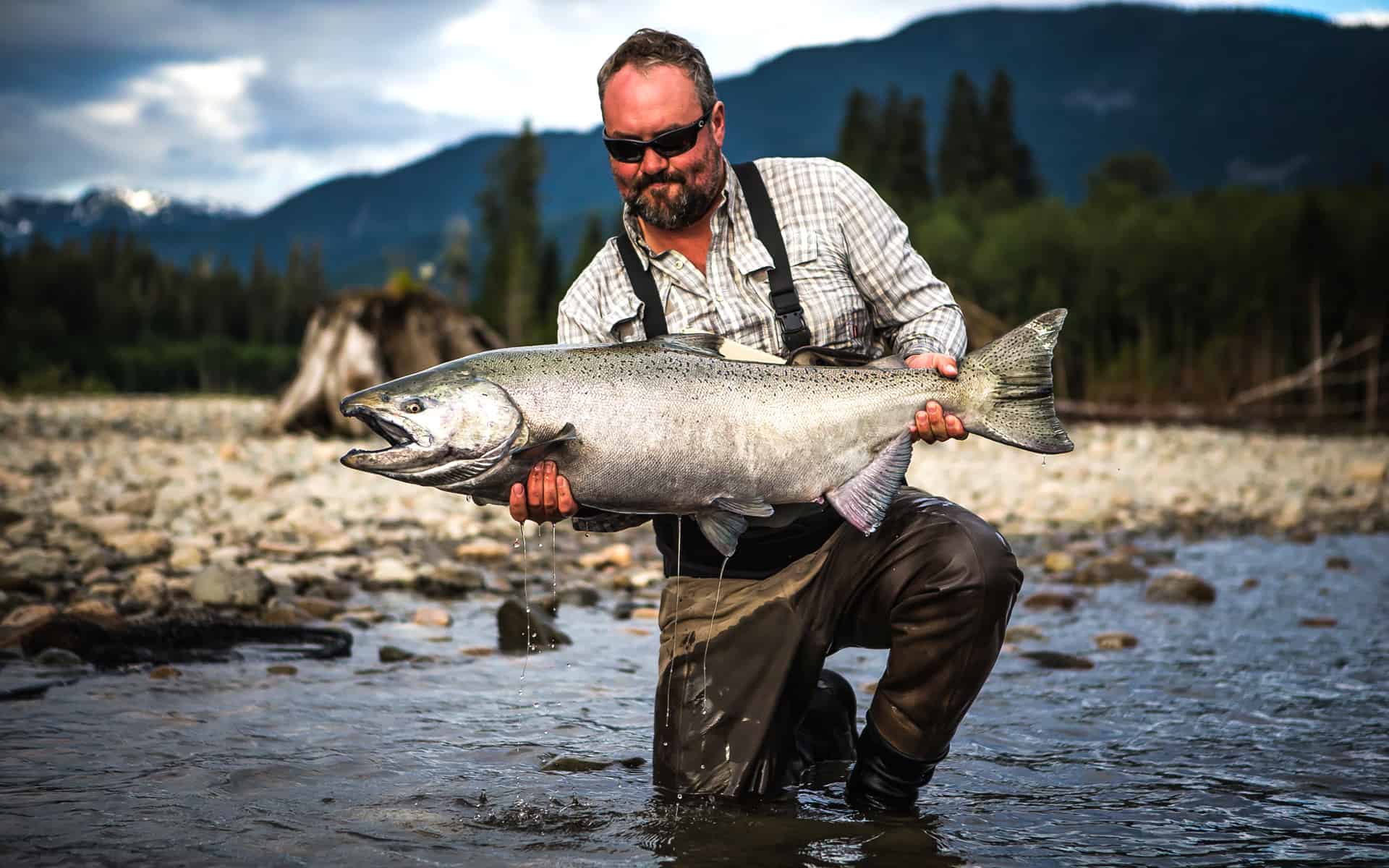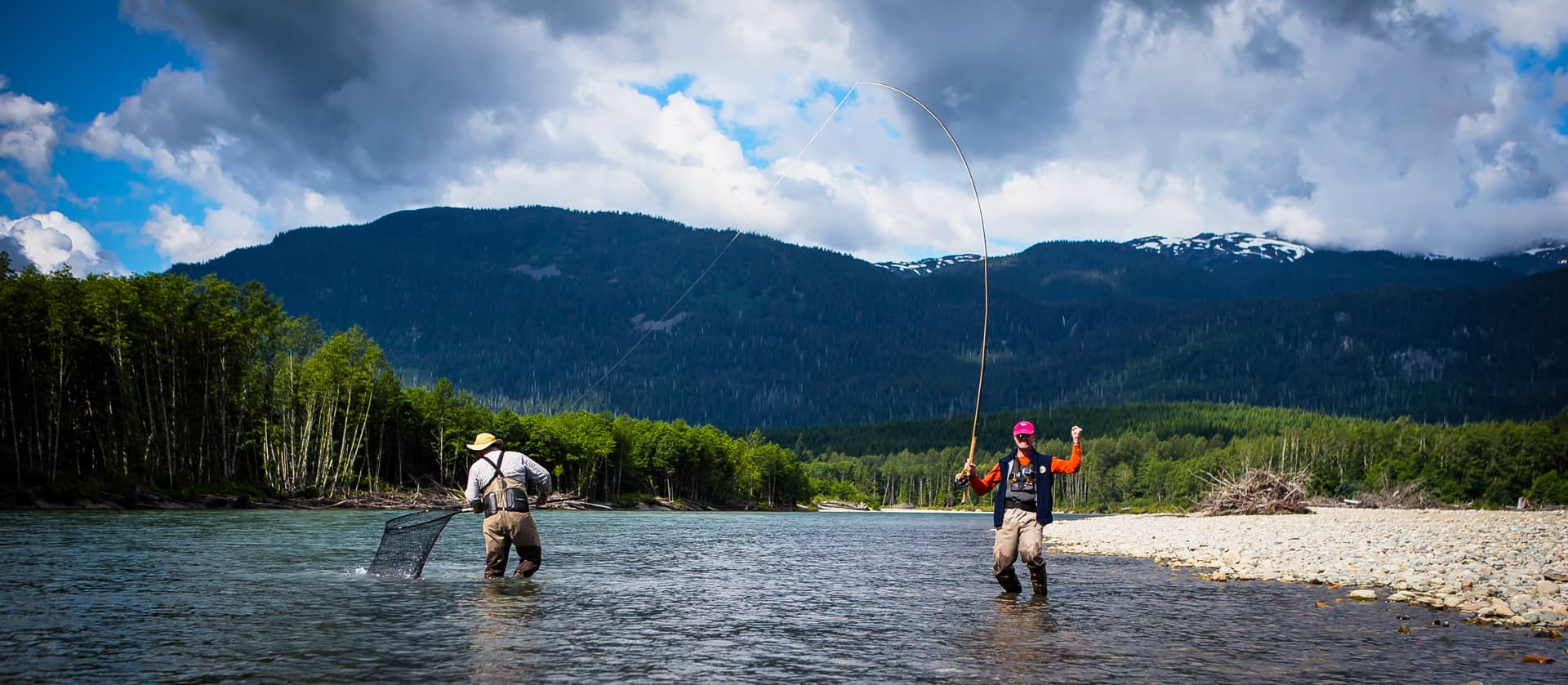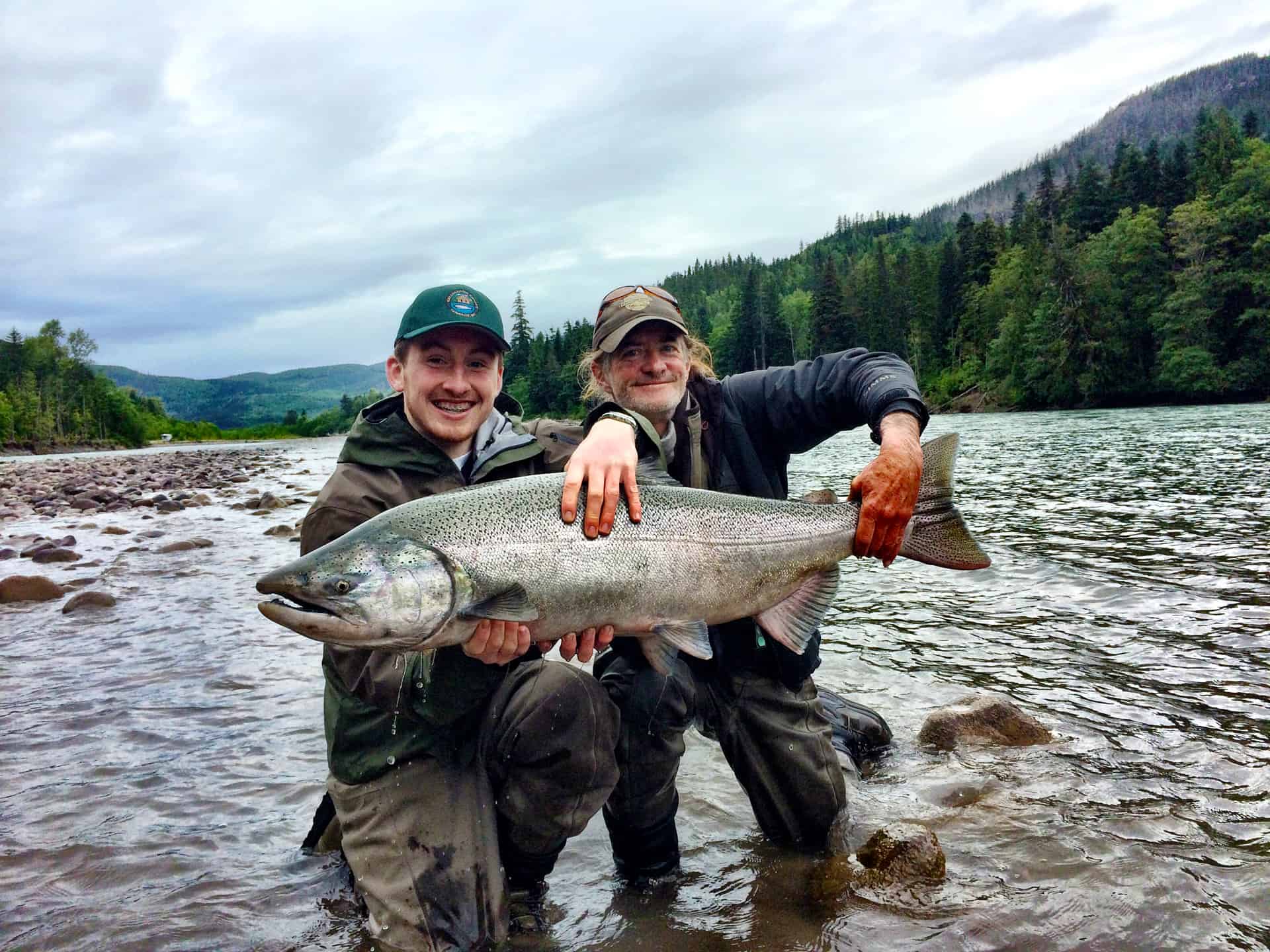 Skeena Region Steelhead and Salmon
The Lower Skeena Region of Northwest British Columbia has the finest wild Steelhead and Salmon fishery in the world, and Nicholas Dean Outdoors is centrally located to interintercept these large migratory fish. We offer fully guided fishing to over a dozen of the Skeena Region rivers, either accessing these rivers directly from the lodge or by helicopter. There is no doubt at Nicholas Dean you will enjoy some of the most prolific Steelhead and Salmon fishing that can be found.
The average steelhead is 8 – 20 pounds with a reasonable opportunity to catch Steelhead in access of 20 pounds. Not to mention 30 pound plus Steelhead do exist and are caught each year. An interesting fact of the Skeena River is marine biologists have caught Steelhead 44 pounds and over in their test fishery. At Nicholas Dean world record Steelhead are a reality not a dream. There's simply no greater opportunity in the world to catch a world record steelhead and guides at Nicholas Dean know where they live!
Your fly slowly wakes across the surface of a crystal clear pool were earlier you sighted a dozen good Steelhead. A huge boil, you wait for the agonizing second or two required for the fish to turn, and then strike. The water erupts into seething foam and a 15 pound mint bright hen Steelhead shoots into the air tearing line from your screeching reel. 15 minutes later and 150 yards down river you have her. You admire her beauty, click a quick snap shot, and release her to continue on to spawn. We offer the supreme experience of Dry Fly Steelheading on the highly Exclusive Upper Copper River Helicopter Fishery, Lower Copper River, and Remote Coastal Streams. This is an experience of a life time with Steelhead averaging 8 to 15 pounds (with fish up to 30 pounds) slashing at your skittering dry fly in the unsurpassed natural splendor of Northwestern British Columbia. This time frame is the most exclusive timeslot. We are usually booked over 1 year in advance with indefinite standing reservations. Booking early is critical.
Coho season is the most beautiful time of year with snow capped mountains vibrant autumn colors and giant hooked nosed "Northern Coho". They are the prince of pacific salmon known for their high cart wheeling leaps, searing runs, and line twisting rolls. When conditions are right we also have the opportunity to sight fish using dry line techniques in gin clear pristine wild rivers. Our Coho streams hold fish averaging 8 to 15 pounds, some 20 pounders, and Coho up 30 pounds are not unheard off.
Nicholas Dean Lodge offers some of the most exciting Coho fishing possible. Imagine a small tumbling river spilling out onto a tidal flat with soaring mountains surrounding you in a Fjord on the North coast of British Columbia. You can see a huge school of 10 to 20 pound Coho splashing and milling about the bay. A long Cast to the edge of the giant pod of fish and strip, strip, faster and whack a large hook jawed beast slams your fly. Line screams from the reel as the Coho rips into the air in soaring leaps. We offer this exciting fishery on many remote coastal estuaries.
The challenge of chasing the largest and most powerful of the pacific salmon on the fly is an admirable pursuit. Our Chinooks are fresh out of the ocean, white chrome, and super hot. They average 20 to 40 pounds with fish over 50 pounds fairly common. There is even the chance of catching the ever elusive 80 plus pound King in the Skeena system. If you like being beaten up by a mean powerful beast of a fish than this is the fishery you.
The broad expanse of the Skeena River flows by in front of you filled to brimming with millions of salmon. Fish flip and roll around you. Your 8 weight rod bends in sharp arc yet again as a 9 pound sea lice covered shining white silver Sockeye cartwheels and shoots back and forth in front of you. Fighting for all it's life like an aspiring steelhead. As a bonus you may have also caught a bunch of pinks, a couple steelhead, a Coho or two, and maybe a Chinook and Chum also. If numbers, variety, and size of fish are important to you then our Sockeye season on the Skeena is something you'll want to experience. This is also a great novice fly fishery because of the shear numbers of fish that run up the Skeena during this time, and the easy short casts (less than 50 feet) required.
The numerous feisty little pink salmon is a great fish for beginning fly fishers because of it's willingness to chase down and savagely attack almost any pink and/or red flies with a tenacious battle afterwards. Most of the streams we fish support large runs of pink salmon mixed in with Sockeye, Coho, Steelhead, Chum, and Chinooks. We highly recommend taking your younger members of your family out for some pink action they will have a great time.
Pink salmon are readily available on all our river systems from July 15 to September 15. The Northwestern BC weather is at it's finest this time of year with average temperatures between 70 to 80 degrees with long bright sunny days being the norm.
The most under rated sport fish on the pacific coast the hard fighting and prolific Chum salmon is probably responsible for more broken rods and burnt out fly reels than any other salmon. Chum run like Steelhead, jump like Coho, and bull dog like Chinooks. They are also a little on the garish side with their camouflage colored flanks and over size teeth (called Dog Salmon for their canine like teeth). Tired arms and big grins are the usual after a hard day of doing battle with Chums. If you are a novice fly angler or just want to catch large numbers of salmon, Chum are the perfect choice. They average 8 to 20 pounds but can reach sizes in excess of 30 pounds.
Season
We offer angling adventures for tackle busting chum salmon from July 1 to August 15. This is also the prime season for giant Chinooks and in some areas you may just find yourself attached to a 50 pound King instead of a 15 pound chum.
We offer a broad variety of stream fishing experiences for trout and char, varying from small canyon creeks, the broad flowing Skeena and tributaries, the eclectic mix of coastal rivers, Estuary Cutthroat, to sloughs and back channels. You can expect to encounter Coastal Cutthroat, Dolly Varden, Bull Trout, and Rainbows averaging 12 to 20 inches with the occasional brute Bull Trout to over 30 inches. The trout fishery makes for a great relaxing day in between the days spent chasing steelhead and salmon. We also have a boundless variety and size of lakes and ponds to suit whatever kind of still water fishery you prefer. Ranging from casting dainty size 16 mayfly dries to dimpling trout to hurling giant polar bear streamers for Bull Trout and large Rainbows we can find the fishery for you.
Season
Streams
The best times to come and fish the Skeena region Streams for Trout and Char are April 1 to July 1 for the salmon fry "hatch" and from September 1 to November 15 for the salmon egg feeding frenzy. August also has excellent trout fishing in streams with dry flies.
Lakes
The best time to sample our lake fisheries are from May 1 to August 1 and September 1 to November 15.